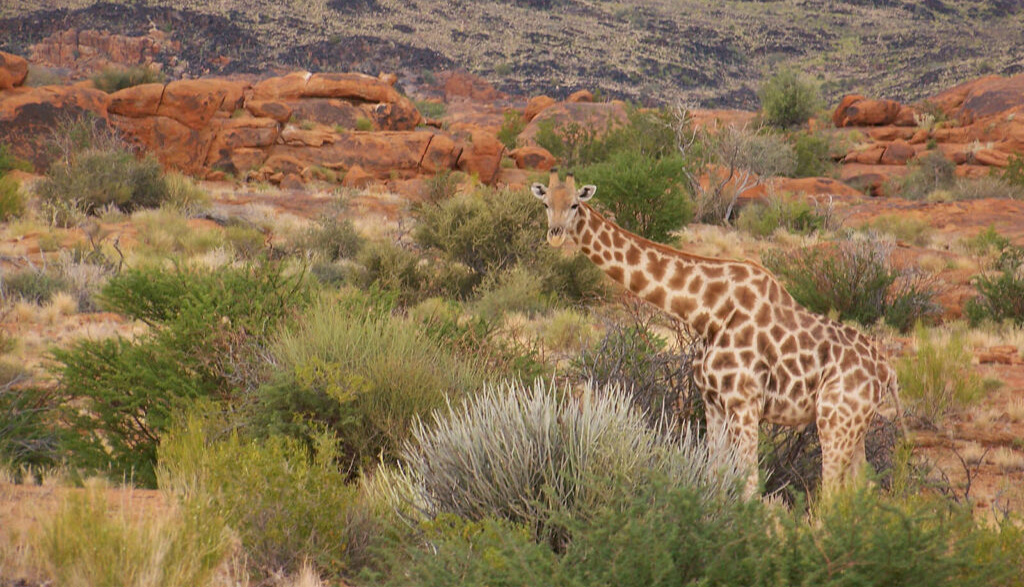 Mokala National Park
Mokala is SA National Parks newest park, situated approximately 80km south-southwest of Kimberley, and west of the N12 freeway to Cape Town. Nestled in the hills, Mokala's landscape boasts a variety of koppieveld (hills) and large open plains. The isolated dolerite hills give the place a calming feeling of seclusion. A big surprise awaits when you pass through the hills and are confronted by the large open sandy plains towards the north and west of the Park. Drainage lines from the hills form little tributaries that run into the plains and drain into the Riet River.
Mokala is a Setswana name for a Camel Thorn (Kameeldoring). These trees occur in dry woodland and arid, sandy areas and are one of the major tree species of the desert regions of Southern Africa. This immensely important species has a great range over the Northern Cape and varies from a small, spiny shrub barely 2m high, to a tree up to 16m tall with a wide, spreading crown.
Current facilities include two lodges; a restaurant, conferencing, a camping area which is 10km from the main lodge as well as a private landing strip.
Mosu Lodge -Luxury Executive Suites
Self Catering (braai, micro wave, two plate stove, fridge, utensils, cutlery & crockery)
One Bedroom with double bed with electric blanket
WC, shower, bath, hand basin
Fire place and air conditioner
Mosu Lodge -Semi Luxury Rooms
Non-self Catering (only electric kettle, no braai area, no fridge)
One Bedroom with two single beds
WC and shower, hand basin
Wall-fitted heater and ceiling fan
Mofele Lodge - Semi Luxury Rooms
Non-self Catering (only electric kettle, no braai area, no fridge)
One Bedroom with two / three / four or five single beds
WC and shower, hand basin
Ceiling fans
Lilydale Rest Camp -Comfortable self-catering accommodation (2-5 bed units are available)
Main lodge and restaurant available on request.
Restaurant and conference for group bookings.
This lodge is +- 70km away from the main section of Mokala National Park.
Haak-en-Steek Camp - Rustic Cottage (1 unit)
Self Catering (braai facility in lapa, gas stove & oven, gas fridge / freezer, kitchen, utensils, cutlery & crockery)
Two sleeping areas (divided by wall), one double bed in open kitchen area, 2 single beds
WC, shower and hand basin
No electricity, no air conditioner
Haak-en-Steek Camp - Rustic Camping
Braai facilities in lapa
No electricity, gas geysers, no kitchen or cooking facilities
Frequently Asked Questions
Activities:
Mountain biking, day walks, sunset and night drives and bush braais.
Stargazing as a nighttime activity is also offered along with wildlife documentary DVD shows.
Enjoy rock art painting, engraving excursions, and guided horse trails.
Climate:
Summers are hot, but the area does not suffer from the stifling humidity so typical of the eastern Lowveld.
The Park is situated in the summer rainfall region and rainfall occurs in the form of heavy thunderstorms or soft rain.
Winter is moderate with frost occurring in the low-lying regions only.
Mornings and nights can be cold, but day temperatures are pleasant.
As outdoor lighting in camps is limited, a torch/headlamp is required when walking outside at night.
Check In & Out Time:
Check-in from 14:00
Check out by 10:00
Please Take Note:
No collection of firewood.
Fines will be given if you drive off the roads.
Your vehicle can be searched at exit points.
Please do not feed the animals.
You are not allowed to get out of your vehicle, except at places indicated to you on the map
No pets are allowed in the park.
Firearms must be declared at reception.
The key for the gates must be returned to reception on the day of departure.
Please keep your entrance permit with you while driving in the park.
No fishing is allowed in the dam.
Any Questions?
We would be more than happy to help you. Give us a call or email us, and we will get back to you asap.
021 8135868
travel@toursa.com